Indian Orthopaedic Doctor Attacked by Patient's Relatives
---
A young doctor has been attacked by the relatives of a patient.
The injured doctor has suffered an orbital fracture and has suffered permanent damage to one eye.
---
It's really a very sad situation for young doctors in India. In a country of a billion people, doctor to patient ratio is almost 1 doctor per 10,000 patients. So you can easily imagine how stressed out the doctors are. Even in such a situation, there are dedicated and hard working young doctors who are choosing to work in remotely located government hospitals, away from the comforts of the city life at a very low pay.
Almost everybody is concerned with the apathy of the patients. But hardly anyone has time & concern to think about new young doctors who doing most of the hard work when a patient arrives at a government set up for the first time with an emergency.
It is really depressing to see the increasing number of violence against doctors by the relatives of the patients. Such cases are getting more and more frequent. We had previously posted about few such cases. But yet again a new case of violence against a young doctor has been perpetuated. This time the doctor was attacked so viciously that he is currently in ICU and has nearly a complete loss of vision in one eye.
---
---
---
The Incident
An orthopedic senior resident doctor, Dr. Rohan Mamunkar, was attacked & beaten severely after he asked the family members of a patient to take him to another center since there was no specialized neurosurgeon on duty. The incident took place on Sunday night at the Government Medical College (GMC) in Dhule, Maharashtra when a patient was brought in with a head injury late in the night.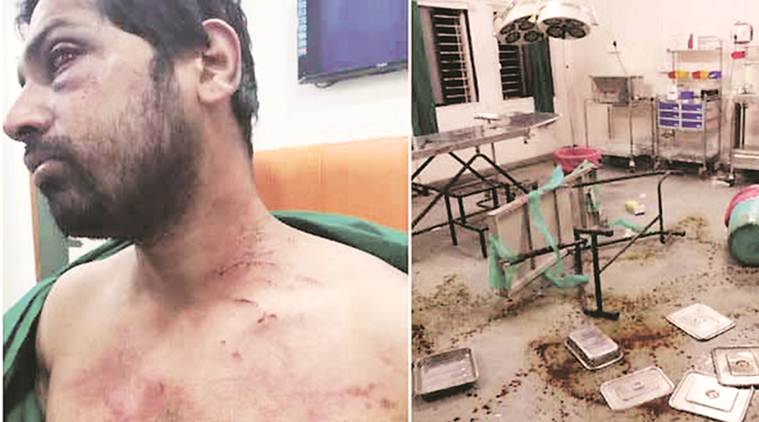 There were no facilities available at the health center to provide any possible life-saving treatment to the patient with the head injury. In fact, any extra time that was being wasted at the center was putting the life of the patient at risk. In such a situation the most sensible choice was to shift the patient immediately to the center where there is specialized neurosurgeons/maxillofacial surgeons & equipment present to manage the case.
---
---
When the orthopedic resident doctor informed the family members that he would have to be taken to another tertiary care center, a mob of over 20 relatives attacked him. The CCTV footage shows them hitting the resident doc with rods, among other things.
There were no guards at the health center present, which is essential and have been made mandatory for the safety of doctors.
The doctor has sustained injuries on his abdomen, chest, and head. He has also suffered an injury to the orbital bone that is present in the socket of the eye. The doctor who is now admitted in the ICU, has suffered a loss of vision in one eye. The video is too violent to post.
The Maharashtra Association of Resident Doctors (MARD) has decided that they will protest by wearing black ribbons to work on Tuesday and also conduct candlelight marches.
Dr. Yashvardhan Kabra, president of the Maharashtra Association of Resident Doctors and third-year PG student at KEM Hospital, Mumbai, said, "As of now, Dhule doctors are going to go on a mass bunk. Central MARD will be protesting today by wearing black ribbons and organizing a candle march. We will plan further action soon."
---
---
But this is not the first time that such incidences have happened. These violent acts against doctors are sadly becoming common with every passing day. Around last year a dental intern was attacked by a group of patients and they fractured his hand in the attack. You can see the story here:
Imagine this scenario – You have a hard working day in your clinic and hospital. Still there are some more patients waiting to be attended and its time for your lunch break. You ask the waiting patients to relax and wait for the lunch break .
---
Is it so difficult for the system to provide protection to doctors working in remote areas?
Is it really difficult to provide multiple security guards in hospitals where there are always chances of emotional outbursts directed against doctors?
Is it really too much to expect support and security from the system?
Is there any chance to catch the ones guilty? Can a mob be held accused?
---
These are the questions that every young doctor want to be answered.
If this trend continues then no talented young doctor will want to go to remote areas to help the patients. In the end,why should he/she risk the life for others when the system is not bothered about them.
---
---
Learn to respect your doctors and soldiers who are both
involved in protecting you & your loved ones, directly or
indirectly.
Everyone is doing business and not charity.
This why free work is expected only out of doctors!

And in spite of doing all these … when a doctor gets beaten !!!
We are sorry that's enough and we can't lose more of our dignity.
DentalOrg strongly condemns any incidence of violence against health professionals Let's work together and use social media to raise the awareness. Don't feel that your share is not worth it. It's valuable as it means the message reached one more person. It's more valuable than sharing a movie stars comments or affairs.
So share it with your friends.
You might not be able to do much physically but you can share the story and also sign the petitions so that the message goes loud to the authorities.