Top Twelve Realities For a Young Dentists in 2017
Top Twelve Realities For a Young Dentists in 2017 - This post will tell the 12 most practical realities faced by young dentists in 2017
TOP TWELVE REALITIES 
IF YOU ARE A YOUNG DENTIST in 2017
In this post, we are going to discuss 12 practical issues faced by a young dentist regarding financial earnings. These points have been compiled after debating with a lot of young dentists all over India.
Dentistry in India as a profession is at a very crucial juncture. In a country of billions, there are huge opportunities for dentists. But there are may associated factors that are holding back the young dentists of India. Though the number of dentists is increasing at a rapid speed, but the average success rate (of financial success practice) is low. Some time back an unofficial survey was carried out at dentalorg.com targetted at young dentists in their twenties. The questions were related to the happiness factor. The happiness factor among the young dentists was not so good.
So, let us start the article and discuss the top 12 realities for a modern-day young dentist.
Reality #1.There was a time 10 – 15 years back
The Golden Era For Fresh Dentists
Around 10 to 15 years back dentist meant just "dentist."
Nobody ever asked – BDS or MDS?
General Practitioner or Specialist Practitioner?
It was just – Doctor of teeth.
A selected few (mostly students who could not get Medicine seat) joined the dental schools for dentistry.
After completing Dental Degree, they used to open their dental practice. They were able to set up their dental practice without many difficulties. In short time they used to make good money also.
Within a span of few months, they not only start making consistent profits from their dental practice but also a name in the society.
Believe me, that was the golden era of dentistry.
You will be wondering – why am I saying so?
Because that was the time when a Dental Graduate (BDS) after completing his graduation
" WAS NOT FEELING WORRIED "
Feeling of a New Dental Graduate 10 to 15 years back was like the pic below.
Feeling of a fresh after he/she comes out of dental school in the present day – See the pic below
In this post, we will tell you about all the so-called issues that a regular dentist is facing and
not only that – What's the solution and the silver lining?
 

Reality #2.Life of A Dental Student –
A decade & half ago
(Show me the money)
A decade ago – the career of a new dental student was different.
He/She was not worried whether there would be a  job in some college or not. He/She was more interested in improving the clinical skills so that he/she can open a clinic and run it successfully.
Even if few of them wanted to study higher or join colleges as staffs, there were enough MDS seats, and job offers to join Dental Colleges.
However, the primary goal of dental graduates was to have their own clinic.
Moreover, why not?
It was relatively easy to set up a clinic ten years back. After setting up a modest clinic, they used to recover their money in a span of 2 to 3 years. The profit margin in any dental treatment is quite high. So, most of the BDS people who passed a decade back are now running highly profitable clinics.
The mentality of a fresh BDS graduate ten years back … was somewhat like this …
Also the senior people and practitioners (very few in number) of that time were kind and considerate to help/teach the young graduates.
At the end of the day – a New Dentist graduate was getting a chance to work and earn in a dignified manner.
"If you are a dental student … then you must be having some friends whose parents are dentists. Barring a few most of such parents are regular dentist only, and with that, they were able to achieve success, respect, and money. They could earn an adequate amount that gave them a good lifestyle and also to their kids.
That is why I say … any dentist new dentist of 2017 & beyond will feel that 10-15 years back it was the golden era of dentistry.
---
See Next Slide for Reality #3
The Dentists of Old Era are  big shots now
Reality #3.Dentists of that Old Era
Are Super Big Shots Now
If you feel I am just blabbering, then please use the internet and have a search.
There are some very senior dentists (who passed around 30 years back) who now own dental colleges, and you might be studying in one of those dental colleges.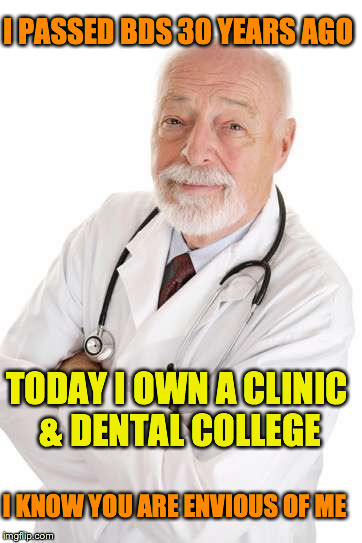 Sooner or later you will feel "Gosh If I had to be a Dentist then
Why Wasn't I born 30 years back !!!!"
Reality #4. The Financial Reality
The feeling of a BDS pass-out in today's time is the complete opposite.
The happiness of finishing the course is very short lived.
The financial realities hit the student hard, and the euphoria of being a doctor goes away.
He/She struggles and toils but is not very sure where his/her profession is going financially.  As they say, money cannot buy you happiness but at the same time money is needed for your basic dignity and survival. However philosophical we might try to become …
in the end, one of the parameters of a successful career is " Show Me The Money."
---
See Next Slide for Reality #5
The Job Scenario In Dental Institutions
(Even for MDS/Post Graduates)
5. Yes I Got  A Job In Dental College
Post-2015 there is no assured job after BDS or even MDS.

(Don't expect you will get a direct job like campus placement in some MNC).
Initially, BDS/Dental graduates used to aim only at the private professional practice and people doing MDS/Post Graduation/Higher dental courses were also very limited. So, there were still jobs available in dental colleges as faculty for any BDS graduate if he/she wanted to join. The salary was respectable.
That gave the dentists some monthly income while they either prepared for MDS entrance exams or start building their clinic.
However, by this time in 2017, there are so many BDS and MDS pass-outs that there are no more jobs in the Dental Colleges/Institutions. To rub salt into the wound, some colleges in Bangalore are appointing BDS people for a salary of Rs 3000 to 5000 pm. (less than 100 $ per month)
So, such dental colleges are themselves exploiting the dentists that they created.
---
See Next Slide – Reality #6
The Ever Increasing Land Prices
Why It is getting so difficult to open a Dental Office
Reality #6. Ever increasing prices of  Real Estate
To set up a clinic one needs a proper location.
Unless you have a place of your own where you can set up your clinic, you are in a spot.
If you need to rent a prime location – be ready to shell out much money.
Even in small town prices are rising steeply.
You need to deposit one-time security money.
Furnishing and clinic design are also very important.
Patient expectations are rising, and they are expecting a comfortable clinical experience.
Monthly expenditures also include per month materials cost, electric – internet bill, furnishing, motor, drainage and many other expenses. After all this, you have somehow set up your clinic. Then you will need to spend on marketing also
So you see, in any country like India, to open decent practice a fresh BDS graduate/young dentist will need to spend somewhere around 10 to 15 lakhs INR.
The irony is no dental school/college ever prepares the young dentists for all these realities. Until the final year, the dental students do not realize the gravity of the situation in dentistry. The reality dawns as the young dentists complete the internship and are exposed to the highly competitive world of professional dentists.
Needless to say, the young dentists are entirely clueless. However, there is no to waste as they are already in their twenties. They need to act fast. So, the struggle starts.
How I wish the dental colleges informed and motivated the young dentists to make them ready for after BDS.
---
See Next Slide – Reality #7
The much needed Financial backup from family & friends
Reality #7.Financial support from family
 If a new Dentist has adequate family backing, then things do get easy.
For example, suppose the parents of the dentist already have a place for your clinic.
In that case, you have your place to practice.
If a young dentist's parents are themselves, dentists, then also it gets more comfortable for the young dentist.
But not everyone has this support. If you are a first generation dentist, then you have to build everything from scratch. If you are to set up everything on your own, then it gets doubly tough.
What's the end goal of opening a clinic?
To make it profitable and source of good monthly income.
However, before you do that you are forced shell out millions and then hope that the practice picks up. It is highly stressful.
---
 

8. Are you a Govt. or Private Dental Student?
Are you a Dental pass-out from a Private/ Deemed dental college?
Then you must have spent a minimum of 12 lakhs INR as the expenditure of the course.
Post 2016 the prices of 4 years BDS curriculum is around 20 to 25 lakhs in top private dental colleges. The admissions are based on NEET exams which are difficult to crack. To prepare for the NEET exams, a student again needs to invest for preparation.
If in NEET you do not get a Govt. sponsored BDS but a private Dental College then you will need to shell out more money for your education.
So for a young dentist even before starting his/her clinic, he/she has already spent a significant amount of money.
For a govt. Dental student it is relatively cheaper as the cost of education in a govt college is very less.
---
See Next Slide – Reality #9
The Dental Practice – It is no more a WWE fake fight!
It is Real Knockout Fights!
Reality #9.

Highly Competitive Dental Practice Market
(It is a fight)



10 to 15 years back the dental practice field in India was very relaxed. Today there is cut-throat competition. I will give you an example. I did my BDS in Chennai. There is a location in Chennai called as the Anna Nagar. It is divided into Anna Nagar – West & East.
In that entire Anna Nagar Area, there are around 1000 + dental clinics.
Can you imagine – how can a new dentist even start a practice?
Senior people who had passed a BDS/MDS 10 – 15 years ago have established well oiled and funded practices. If that was not enough, now big corporate sectors have ventured into the dental industry. Corporates like Apollo, Amri, Vasan, Dentistree are investing huge sums of money into setting up multi-specialty dental hospitals.
So, for a fresh BDS graduate or a New Dentist, it is not possible to compete with such setups.
They have three choices only
Work for the big established clinics of senior dentists for a monthly salary.
Work as a staff dentist in the corporate dental setups.
Open his personal clinic and run a modest practice.
In the first two choices, there is again a competition between BDS & MDS. Also, the salary offered to a BDS graduate/New Dentist is not up to the satisfaction. That adds more to the frustration. The last option is of opening the clinic, but at least it makes the dentist his own boss and the harder he works, the more chance he has in earning more.
However, the moment he decides to set up his clinic, he is again faced with the situation described in the points 1, 2, 3, 4 previously
---
See Next Slide – Reality #10
The Mantra To Success, in Today's Tough Dental Scenario
Reality #10. You have somehow built your practice but will it be a success?
It is another question that has no definite answer. You are a BDS, like many of your friends. However, all of you will not have the same success with your clinic. Maybe your clinic is a hit with patients, and your friend's clinic is not doing so well even after much investment.
That is – Destiny + Skills
You will have to be good in your clinical work and also good at impressing the patients with your talk and personality. You need to have that air of confidence & assurance. Tackling patients is a skill that you can achieve by conscious decisions. Try to read the approach of a patient.
For example, you have finished crown and bridge for a patient after RCT. So, the patient has come for two sittings of RCT and has paid you the amount for RCT and crown. From his behavior, it seems like he is a bit stringy or complaining about spending. You are satisfied that you have done an excellent job. That is your satisfaction. However, before leaving patient asks " Sir/Mam' Will this crown last Life Time? " If you say no – then he will go with a feeling of being cheated. So what will be your answer, so that he goes happier?
So you will have to be tactful and also have the power to wait. You need to be ready for the unpredictability of the profession.
---
 Reality #11. Social Pressure from friends and relatives
It is the most irritating scenario faced by a BDS graduate/Young dentist, particularly in India. While he/she is just finishing the internship, his/her close school friends or cousins are already earning at least 20K to 30K in some IT firm. The BDS graduate is in catch 55 situation.
In social events he/she sees his/her cousins and friends relaxing and oozing with confidence that regular money or salary provides. Then comes the nasty aunties who start comparing their kids work-salaries and start Bombarding you with questions — When you are opening your clinic/practice?
Did you join any college?
How much is your salary?
Mind you; it is a typical scenario in India because the relatives are more interested in knowing the weight of your salary.
Moreover, the final and most irritating question – You will not charge me any money … in your clinic?

Your reaction to hearing so much bullshit …
"Just shut up you Idiot " ———>    Phew !!! Social functions become like interrogation sessions
---
See Next Slide – Reality #12
The Reality Of Dentistry is Changing & How will you cope with it?
Reality #12. Development of MDS/Higher Dental Degree Superiority mentality
10 – 15 years back BDS was enough as a degree. However, by 2017 there has been a radical shift in the mentality of the students as well as patients. There is a hoard for MDS. It is becoming a notion that MDS gives certainty of the job. So, many BDS students spend a considerable amount of money to join MDS course.
Some MDS graduates do get a job. However, by 2016, even MDS people are going jobless due to saturation. In other words, if MDS people are not getting jobs in dental colleges, then do BDS graduates have any chance?
Due to all the points mentioned above … the feeling of a BDS graduate after completing internship is like the picture below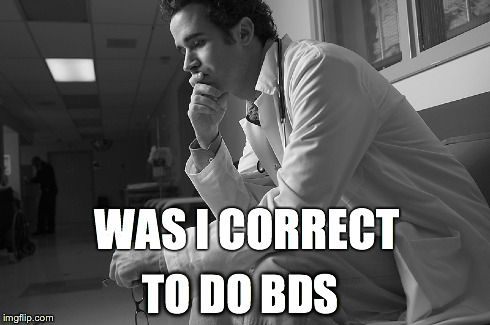 ---
 So, what can a young dentist do to face these hard realities of dentistry?
Every Dark Cloud Has A Silver Lining
If you have completed BDS, then be brave. It is still a profitable profession. Of course, things have become very tough for any new pass-out. You need to keep your motivation up. Many will advise you for a career change. Of
Of course, things have become very tough for new dentists. You need to keep your motivation up. Many will advise you for a career change. Of course, some docs do it successfully – like the story here " From 32 Intact to Sky High – Dentist working in aviation Industry " (Click to read)
You need to remember that dentistry and dental practice is still a profitable business model.
You have to have faith & self-belief
Yes, you still need to face the expenditure of maintaining and running a clinic. However, in the long run, it works out. All that is required at this stage is the power to do the practice consistently and to take it day by day. Also, you need to keep yourself updated with the treatment procedures that are the mainstay of income. For example, am a periodontist but maximum treatments I do is root canals. So, I always need to upgrade myself to new and more comfortable instruments to do painless successful root canals.
Moreover, believe me … even though the competition is high … even though I have just started my practice after MDS … even though I hardly get patients willing to do specific periodontal surgeries … even though max procedure I do is RCT … even though there are establishment charges … I still end up getting enough profit out of my clinic.
Hence, I would conclude this article saying " Don't feel like the battle is lost. BDS or MDS does not matter. The way population is booming; there is enough place for the new dentists. Yes, it is not as easy as it used to be 10 -15 years back. You need to stop comparing dentistry situation now to what it was a decade back. However, you live in today. In 2017 one needs a little more time to find their place. However, it is possible. "
I hope that you gained some insight into the top 12 realities for a dentist in 2017. Now that you know the points prepare
Now that you know the points it is time to prepare for the journey called dentistry.
---
Recommended Reading: 
10 Steps to Start a Financially Successful Dental Practice:
As a dentist be assured that you have chosen an amazing profession with a high rate of proven success stories from all over the world. On a whole, dentists are one of the highest taxpaying group of professionals, all over the world.