THOUSAND MILES FROM HOME: Journey to become a dental surgeon
In this article, I will discuss an interesting story of how a student who was interested in engineering jumped into Dental School and Dentistry. It might be similar to your own story.
Frankly speaking … In my school days all I ever wanted was to do something in the field of technology. May be it engineering, software or graphic designing. Though there were doctors in my family, but I never felt inclined to it. I bought the first computer latter than any of my friends. And once I got it I was always tinkering in to the hardware and software.
But as it goes in the current scenario of the  educational field, its not easy to predict where your career will be heading. So, aiming for a good Engineering seat, my career bus went towards dentistry with some interesting twists, turns & some bumps.
Today am in to my MDS final two months and I can say it has been one exciting ride, that I will be talking about in the future posts. In this post I will be talking about the days, chances led the way in to the world of Dentistry 🙂 … After reading you might feel … its a lot similar to your story  🙂
---
Chapter 1
••••••••••••• Prologue ••••••••••••
THOUSAND MILES FROM HOME: Journey to becoming a dental surgeon •••••••••••••••••••••••••••••••••••••••••••••••••
Time flies ! Right … ! Yes it does : ) ?
Many times , it feels just like yesterday.
And sometimes that yesterday seems so near.
As if u r standing …
And seeing urself in the movie based on ur past years , where once, u were the lead actor.
One moment of closed eyes & we are teleported back in the time …
" It was the day of my 12th results. Summer of 2003.I remember me & my friends leaning against the wall and discussing about the results. I was the state physics & english topper 🙂 … and was enjoying the attention from friends & girls : ) …
He he … sorry … just bragging a little: )
---
---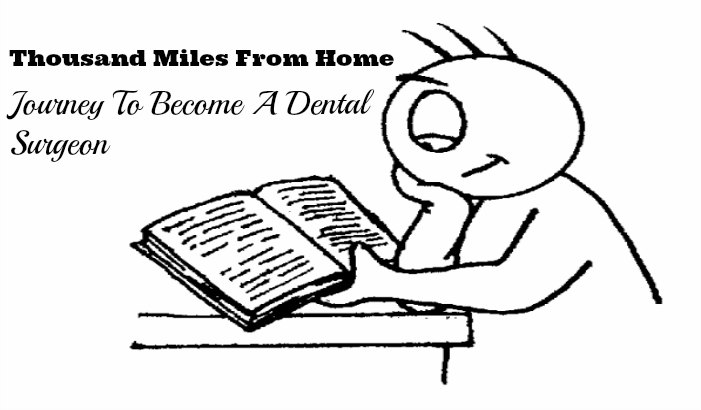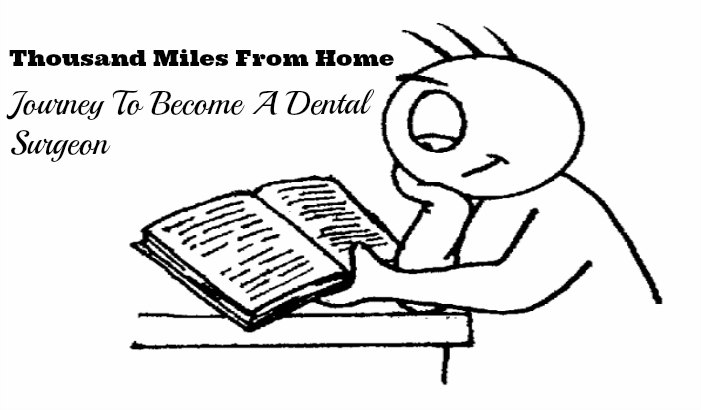 Back to the story ! So we were discussing abt results, future career & checking out some of the girls on whom we had crush : ) … perhaps for the last time 🙁
May be we will never see them again …
Who knew some thing called Face book was going to invade our life
All of us had so many dreams : completely out of bounds.
---
---
After the 12th exams, whole day it was just fun & useless time pass. There was not a care in the world about anything. Random movies, outings & the best part of endless talks n music jam ing  with friends. We all were so away from anything related to career n studies. Though the dragon of entrance exam results was looming large.
We were waiting for the entrance results. Results came. I got though the engineering ranks but did not manage enough for an MBBS seat. Same story as many of you, I guess :@.
The day finally comes when you hear it from your family.
I also heard it " Son , you need to be serious about ur career. You are no more a kid " But … Mom ! Dad ! Am just 17 ! … Well , son , at your age we were already working and supporting our parents. " And it's true … We – the today's generation kids have had it much easier than our parents. And that sudden realisation that the days of carefree wandering are about to get over … It's hard for a 17 year old ! :@
Then the decision whether to join engineering or health field.Though I was not interested in either of them. I wanted to join journalism.
First thought – "I want to be with my friends." I will join whatever they join. I called up everybody. Most were joining engineering. Being a physics topper, I thought … " I can manage engineering. I didn't love maths that much. But at-least I get to be with my friends. That will be good !
So, after sorting out the colleges with friends I was assured. I had it all planned : ) … I was thinking " Am smart & am going to enjoy next 4 years with my friends."
---
---
Thing was : Ours was a group of rowdies ( mild level :@ ). Teachers gave examples to other students how irregular, badmass & idiots we are. Teachers never liked us 🙂 … But they had no way to explain the awesome results me & my friends produced in 12th & entrance exams : ) … We all got good ranks and close to each other. For them it was lightening from dark clouds 😀 …
[ Oops ! Sorry for getting in to bragging mode again : ) ]
Every thing planned … I slept off … Dreaming about new college , old friends , new girls & and all the fun I was destined to have. Awww … I felt : ) … And then Zzzzzz ! Oblivious to the fact that some major discussion was going on between elders in the next room !
---
---
That time when I slept … Marked the entry of the twist in my life … Called … DENTISTRY !!!
Morning I got ready & went to elders to inform that I have decided to join engineering. I sat at the breakfast table … And before I could say anything … Grand father told … " All the children went in to engineering " We hope u join health science . U can try dentistry and become an oral n maxilla facial surgeon. We will be very happy if u do that. "
Umm … Well … Hmm … Zmmm … I scratched my head … My face … Saw outside the window … Saw that bird in the nest trying to fly … And thought … What the heck !
Lets do it … Can't always be with friends everywhere … So, lets become a oral surgeon. And that was it .
Next day … I was in the train to Chennai. From being the authentic East Indian Boy … I had ventured in to new phase of life … South India & Dentistry ! And it was a potent mix … : ) …
My Chennai Express Started in 2004 …
Long before Shahrukh Khan even thought of making this movie
From being a staunch follower of Hindi movies & being Biggest fan of SRK … I saw the superstardom of Rajnikant …
From being chapati eater … I had to experience all the South Indian delicacies.
From knowing only Hindi & English … I was going to master some of the oldest language in India . Tamil … Malayalam , Telegu …
Life took a South Indian turn ! And the topping was Dentistry ! It was red wine with scotch : ) ...
And I was finally standing in front of the gate of the dental college … Waiting to enter the college … Waiting to enter the hostel … Hoping to find some friends … Hoping to find love … Hoping for many things … But will I get it …
And I took the step in !
---
---
And that moment marked the beginning of series of events … That spiced up my life … : ) … And dentistry embraced me !
Hope u liked the story of a dental student till now … Will continue in next post …
Do share ur feelings in the comments !
••••••••••••
Deb.
•••••