6 Steps to Crack NEET MDS
A comprehensive article explaining 6 essential steps to successfully crack the NEET MDS with the help of videos, flowcharts, and planner. However, NEET MDS is a secret that needs to be solved every year by hard-working students. With every academic year, new experiences are gained and learned towards an efficient preparation for NEET MDS.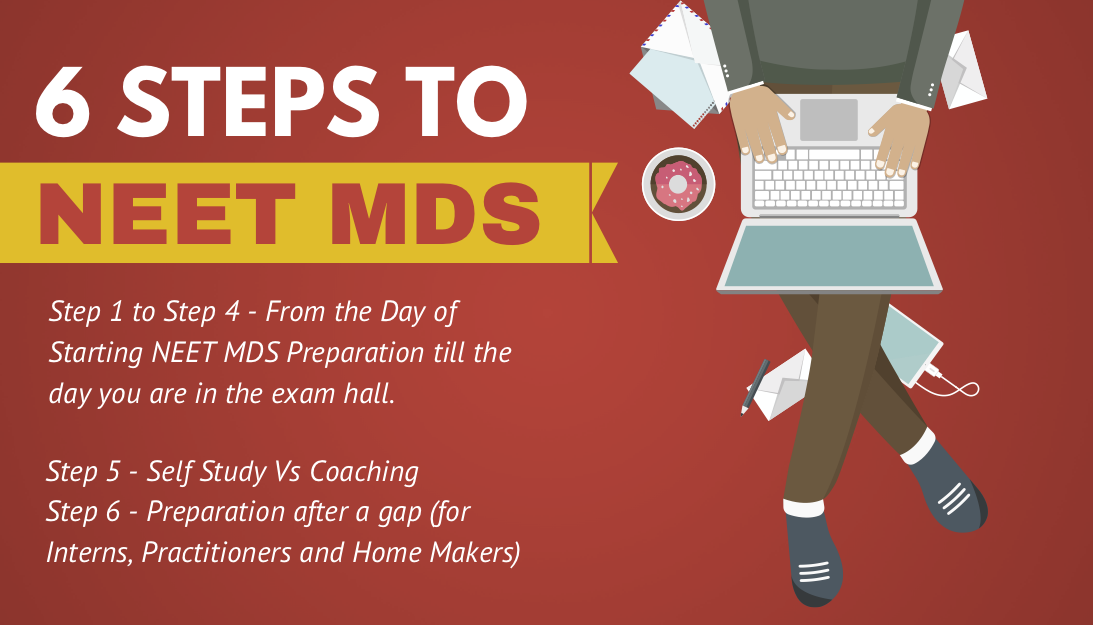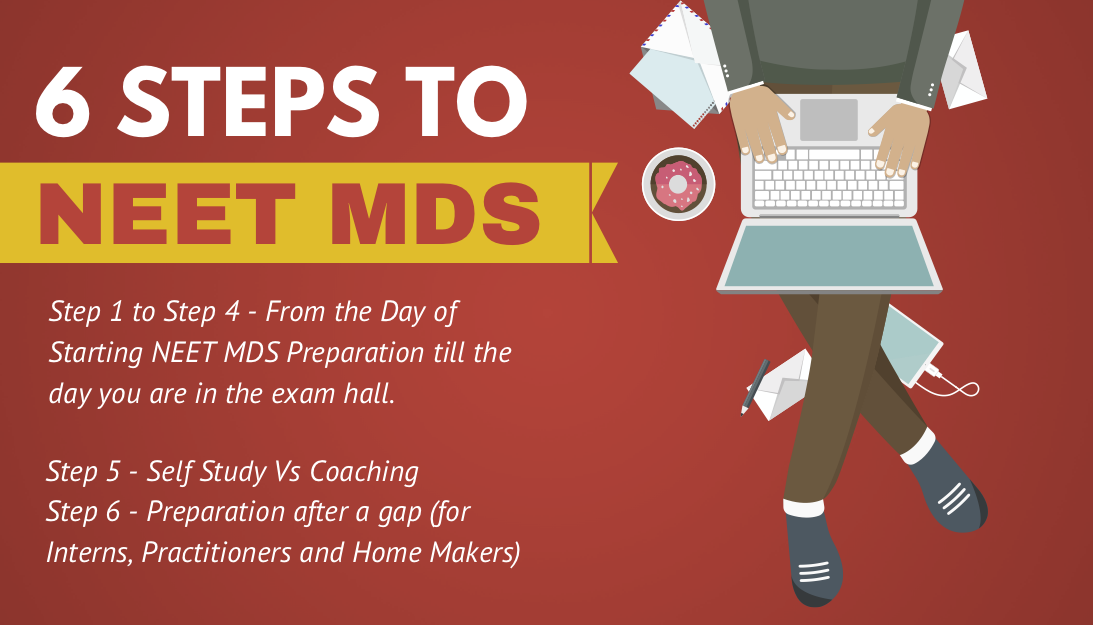 A lot has been written on how to succeed in NEET MDS Exams. You just need to type NEET in any of the search engines and there will be hundreds of articles out there suggesting so many tips on how to succeed in NEET MDS Exams.
Some articles will tell you how to prepare for NEET in the last 40 days and some will say let's rock the NEET Exam in 3 months of preparation.
But the fact is NEET MDS is a secret that needs to be solved every year by hard-working students and with every passing academic session, new experiences are gained towards a more efficient preparation for NEET. 
Success in NEET is not an overnight story. It's a test match that lasts over 10 long months. And the penultimate 2 months of preparation are like slog overs where you are expected to accelerate the scoring and protecting your wicket at the same time. It's a roller coaster journey of emotions, hard work, fear of not doing well and the courage of overcoming those fears.
And the best person to share those experiences, (collected from a wide array of students) are the teachers who have spent years in educating young dental graduates in person.
Teachers are the person, who along with the students every year make the journey to NEET success and sometimes falling a little short of the success. 
At DentalOrg.com, our aim is to bring in front of you those years of experiences from the teachers and put those directly in front of you to read. The sole purpose of doing so is to motivate you and also provide you the tips that the teachers have gained over years. 
Please note that every individual (including you) is unique. You might be having your own way of preparing for NEET. So, as you read the series of NEET articles, note the points that you feel will help you and try to add those habits to your preparation.
---
In this elaborate series of NEET MDS PREPARATION article, you will be reading about NEET Preparation, Planning (daily, monthly, weekly) and Revision schedules in detail.
This series of article is written by Dr. Narendranatha Reddy, who is an academician with more than 20 years of teaching experience and the CEO of Brihaspathi Academy of NEET MDS Preparation. From his years of experience as a teacher, Dr. Narendranatha Reddy is explaining the secret of Efficient NEET preparation. It's the recipe of success that hundreds of his students have used over the years to realize their dream of an MDS seat by clearing tough MDS Entrance exams like AIPG and now NEET.
---
Author Note: (Dr. Narendranatha Reddy)
Hello NEET MDS Warriors,
Hearty Welcome to the Journey of NEET MDS Preparation!!!
The battle instigates now, and this article is an initiative to help you through the driveway sound and smooth. You will find a series of articles that will take you only to one door, and that is "ALL ABOUT NEET MDS and succeeding in it smoothly." My 10 years of MDS Entrance Coaching Experiences would be shared through this page.
One would notice the sea change in the MDS Entrance examinations, and vibrantly India is all geared up for the One Single Entrance – NEET MDS.
My voyage of MDS Entrance Coaching Experiences along with the contenders has been a true learning experience on a Rollercoaster. The aspirants of NEET MDS are still on the path of confusion on what is NEET, how to prepare, race and win this.
Students looking out for a smooth battle, sit down, and all you need is to spend a few minutes on this article for valued Tips and information on "ALL ABOUT NEET MDS." My experiences as an Author, Mentor, and a Coach shall help you sail this journey safely.
---
The 6 Steps in NEET MDS Preparation
All About NEET MDS – An Outline & Scope
How to Prepare – "My Experience" Clinic or No Practice & How to Plan – Monthly, weekly, daily schedules & How to Study. 
How to Study After Making Plans (Preparing for Theory & MCQs)
How To Revise Topics For NEET Exams (Phases of Revisions)
All About NEET MDS – Self Study vs Coaching
All About NEET MDS – Time Management for Interns, Working Dentists, Homemakers & Long Back Graduates
You can reach or contact the author at drpnnreddy@brihaspathiacademy.com
or call him at +91 91644 76636
---
Let's start with the STEP 1 of this series
STEP 1: Know Basics About NEET- An Outline & Scope
 NEET MDS – can be expanded as National Eligibility and Entrance Test for MDS
It is a gateway for MDS courses – Mandatory for Govt/Private Quota Admissions

Remember the word "Eligibility" – It means you cannot step into MDS course unless you qualify in this exam

No other entrance examination, either at state or institution level

AIIMS, New Delhi is exempted from the NEET and will have its own exam

Exam will be conducted by National Board of Examinations – NBE (https://nbe.edu.in/)

Counselling will be organized by respective State Govt and Ministry of Health and Family Welfare for All India Quota Seats
---
Advantages of NEET and How it is Good For You
One Country, One Theme, One Syllabus, One Exam to grade them all
Clarity in the Minds of Students and Parents – easier to decide on One Exam and One Score
Avoidance of Syllabus Disparity
Saves lot of Time and Effort
Substantial financial savings for Parents
Decreased Stress levels
Get into any desired college irrespective of their domicile state
Single window counseling at State and National level
Reduced levels of manipulation.
One can plan the Future right from the 1st year of the Course
---
The only Disadvantage of NEET
Just one examination
For some reasons, if you could not do well, you don't have another exam to fall back on
Point to Note: NEET MDS Qualification is Mandatory for Many Govt Jobs – Especially for Army Dental Corps
---
The next most common question that every NEET MDS aspirant keeps asking is what should be the ideal rank or score to secure a good branch of MDS and a good or govt. dental college during the counseling
The truth is no one can reply to it with a definite answer as it varies from year to year depending on many other factors like the number of students appearing for the exam and the general quality of marks being scored.
Hence, rather than pondering too much on too much on the possible scoring or the ranking, your first goal should be to score as ahead as possible from the minimum cut off percentile. (applicable to you based on the category you belong to).
NEET MDS Eligibility Criteria
The NEET MDS eligibility criteria, to be considered for admission to MDS courses, are decided by Dental Council of India (DCI) with the approval of the Ministry of Health and Family Welfare (MoHFW). The basic requirements to appear for NEET MDS can be checked below:-
Candidates must hold BDS degree from a recognized institute to fulfill NEET MDS eligibility criteria.
Provisional/permanent registration with State Dental Council or DCI by March 31.
Completion of the one-year compulsory rotatory internship by March 31 of the academic year that a candidate is seeking admission is mandatory.
Tentative NEET Exam Related Dates
Please note these ate just tentative dates and subjected to change.
Always refer the NEET Official site for the most updated dates of events.
(Below are the tentative dates for 2019)
| | |
| --- | --- |
| Events | Dates |
| NEET MDS 2019 exam | December 14, 2018 |
| Declaration of result | Third week of January 2019* |
| Release of NEET MDS cut off | Third week of January 2019* |
| Commencement of counseling | Second week of March 2019* |
Hence, as an overview, you should plan your NEET Preparation in such a way that you complete your syllabus of preparation by the month of November so that the last one month can be completely devoted to Revision.
NEET MDS Cut Off (Qualifying percentile)
Aspirants securing more than or equal to the minimum cut off of NEET MDS will be considered qualified. The qualifying cut off for general category students is 50 percentile, while that for SC/ST/OBC categories is 40 percentile.
The cut off marks equivalent to the percentile will be declared along with the NEET MDS result in the third week of January in online mode.
| | |
| --- | --- |
| Category | Qualifying             Percentile |
| General Category (UR) | 50th            Percentile |
| OBC/SC/ST (Including PwD candidates of the respective category) | 40th            Percentile |
| UR-PwD | 45th Percentile |
NEET MDS Results
The NEET MDS result faq specifies the qualifying status of the candidates. The result of NEET MDS will be released in the form of the scorecard by January 15 (or the third week).
NBE will also issue the cutoff marks along with the NEET MDS result.
The NEET MDS scorecard will contain the score, All India 50% Quota rank (overall rank) and All India 50% Quota category rank. 
The scorecard will be available in downloadable pdf format which can be accessed by entering NEET MDS roll no., date of birth and captcha code at the official NEET MDS website. The scorecard of NEET MDS will be valid in that particular academic year in which the candidate has appeared for the exam. 
As mentioned before, the cut off of NEET MDS is based on the official marking scheme under which 4 marks will be allotted for every correct answer, while 1 mark will be deducted for a wrong attempt and no mark will be given for unanswered questions. The other associated factors that may influence the cut off scores are as follows:
The number of candidates appearing for the test.
The difficulty level of the questions.
The number of seats available and others.
The overall quality of performance by the students. (For example, if the quality of performance is high, then the cut off marks will shoot up)
Understanding Percentile Vs Cut Off Marks
As discussed before, candidates who secure equal to or more than the minimum qualifying cut off will be considered eligible for admission. There are two keywords that are used in this context – Percentile and Cut Off marks
To qualify in NEET MDS, general category aspirants need to secure 50 percentile, while 40 percentile must be obtained by SC/ST/OBC students. For example, in NEET 2018, 50 percentile was equal to 233 cut off marks and 40 percentile was equaled to 204 marks out of a total 960 marks.
A percentile rank shows the performance of the candidate in comparison to others, while a percentage rank shows how well a candidate has performed.
Percentile ranks are commonly used to clarify the interpretation of marks on the standardized tests, whereas, the percentage of marks is simply calculated based on the marks obtained out of the total marks.
Based on the percentile scores, the All India merit list will be prepared. After that, the equivalent minimum cut off marks for each category is also published. 
For example, have a look at the approximate table of the Cutoff Percentile and the associated cutoff marks for NEET 2018
| | | | | |
| --- | --- | --- | --- | --- |
| Category | NEET MDS cut off percentile 2018 | NEET MDS cut off scores (out of 960 marks) | NEET MDS cut off percentile 2017 | NEET MDS cut off scores (out of 1200 marks) |
| General | 50 | 233 | 50 | 523.2461 |
| SC/ST/OBC | 40 | 204 | 40 | 491.2402 |
| General-PH | 45 | 219 | 45 | 507.4365 |
Based on the scorecard similar to above, counseling is undertaken for the various branches of MDS in the dental colleges of India.
But, towards the end of the first phase, there are always many vacant MDS seats in many dental colleges all over India.
Hence, In order to fill the sufficient number of vacant seats the Central Government in consultation of Dental Council of India can lower the NEET MDS cut off percentile and scores. For example, one of the previous years, the cut off percentile of each category was lowered by 29.735th percentile. It benefited the NEET MDS scores accepting dental colleges for filling their vacant seats. The cut off percentile for general category candidates was reduced from 50 to 20.265, followed by 10.265 percentile for SC/ST/OBC and 15.265 for general PwD categories.
Revised NEET MDS cut off – 2018
| | | |
| --- | --- | --- |
| Category | Revised cut off percentile | Revised cut off scores |
| General category | 20.265th percentile | 149 |
| SC/ST/OBC category | 10.265th percentile | 115 |
| PwD category | 15.265th percentile | 133 |
NEET MDS Counselling
Mode of Counselling: Online, Offline
The counseling process is held after the release of the NEET MDS results. (in the month of March).
The candidates who qualify the exam by securing the required percentile and corresponding marks for their respective category will become eligible to participate in the counseling process.
All India 50% quota rank will be allotted to those candidates who are eligible to participate in the counseling for 50% All India quota seats.
The NEET MDS counseling is usually conducted by the centralized body, DGHS and state authorities for each state.
Jammu and Kashmir state will not participate in the central pool and therefore the counseling for the seats of government dental colleges will be held by the state body responsible.
After the release of NEET MDS counseling result, candidates can take admission to the colleges that are allotted to them.
Official Links for you to Review
There are many portals that will give you the information on NEET MDS and they are helpful too. However, always and consistently make it a habit to check /visit the official NEET MDS Sites for all the latest updates, information, and other frequently asked questions.
---
---
Let's start with the STEP 2 of this series
STEP 2: How to Plan your Preparation – Daily, Weekly and Monthly Planning
 NEET MDS – It all depends on how you plan
1. Do Not Sail in Two Boats at a Time
It is a question which every dental graduate faces with no clear-cut answer. Everyone has a view on the more suitable approach but you need to decide what is correct for you.
Don't Do Your Entrance Preparation along with Clinical Practice. Many of the aspirants think that they can prepare for the entrance along with clinical practice. But for God's sake, don't mix wine and vodka.

I have observed many failures with this type of protocol. The saddest part was they had lost the Seat/Rank with one or two marks thus wasting one precious year.

Clinical Practice will be with us for whole life but not the studies. Be Focused on studies and give a halt to practice.

Remember: If you are not successful in this attempt, then you must wait for one full year cursing yourself and with the feeling that maybe you should not have invested more time into clinical practice.
---
2. Early Start: Half Work Done
Start Your Preparation, at least 10 months before the actual Test Date
Advantages
You can make the best use of time

You can do at least 2 revisions apart from basic/preliminary study

No last minute exam stresses
Can be able to modify the preparation if there is a change in exam date or pattern
---
3. Division of Total Study Period
(Approximately 10 months)
Ideally, you can divide 10 months as below
5 – 6 months: Basic/Preliminary Preparation
2 – 4 months: Revision Phase – I
1 – 2 months: Revision Phase – II
If finished earlier: Revision Phase – III
We will look in detail at all the Phases of Revision mentioned above in the next few slides of this article.
---
BASIC/PRELIMINARY PREPARATION STUDY PLAN (first 5 to 6 months)
Assuming You Have Weekend Tests
The journey of your NEET preparation starts here
This is the First Step and the most vital part of the NEET MDS Preparation.
Always remember that Constant Periodic Revision is mandatory for effective preparation.
I suggest you revise on daily basis of entire day topics before you go to sleep in the night.
This plan is explained assuming that you have Weekend Test on Sundays. One can modify the preparation as per their needs.
Monday – Friday: Initial Preparation
Saturday: Revision of the things whatever you studied from Monday – Friday
Sunday: Weekend Test
---
 The various steps involved in the Basic Preliminary NEET preparation are as follows:
Shortlist Your Study Materials
Shortlist Your Time/Days Per Subject
Prepare a Weekly Schedule/Planner
Schedule the Day

How to Study – Weekly Test Preparation
---
 1. Shortlist your study Materials
(Basic Preliminary Preparation Point Number 1)
Before you jump into preparation, it is wise and sensible to carefully select your tools. And the most important in this regard is the study materials you are going to use.
Shortlist Your Study MaterialsThis is the most crucial part of the preparation
Many of the students try to read everything that is available in the market.

But it is not correct.

First concise the list of books you want to rely on (MCQs and Theory)

Keep positive hopes on the chosen materials

Don't try to add more without finishing the initial list

You can try additional materials in the Revision Phase
---
 2. Shortlist your Days Per Subject
(Basic Preliminary Preparation Point Number 2)
---
This is another precious step towards your goal.

Many of the students don't know how much time to be given per subject.

Earlier when multiple exams were there, students were used to giving more time for Dental subjects but now NEET MDS blueprint says equal (more or less) marks division for all the 19 Subjects.

Hence, we need to give equal importance to all the subjects irrespective of candidate's interest.

Always prepare as per DCI Syllabus. Don't let any topic go untouched.

Many of the students prefer to start with Dental subjects as they think it is easy to get on track.

But in my experience, it's not a great start as they were piled with Basics at the end and lose the confidence and interest.
I suggest,
List out the Subjects in the descending order of Most Difficult to Easiest.
This is because you can start with that Most Difficult one with maximum time allotment. And the last one is Easiest which requires the least number of days.
For e.g.: For me, Pharmacology is toughest, need quite a lot of time and I put it at first. DADH is easiest and I read it in the last.
Below I am providing a tentative schedule for the number of days you should invest per subject for NEET MDS Exam preparation. You can either follow this pattern or modify it as per your requirement. However, keep in mind that there are 19 subjects which you need to cover. Therefore, plan accordingly. Investing too many days in one subject may make you better in it, however, you won't have time to cover many other subjects or topic.
S. No
Subject (Most Difficult – Easiest)
No. of Days
1
Pharmacology
15
2
Anatomy
15
3
Physiology
10
4
Microbiology
07
5
Oral Pathology
12
6
Oral Medicine and Radiology
07
7
Biochemistry
06
8
General Medicine
10
9
General Surgery
05
10
Community Dentistry
15
11
General Pathology
05
12
Dental Materials
10
13
Prosthodontics
12
14
Cons & Endo
12
15
Oral Surgery
12
16
Periodontics
12
17
Orthodontics
06
18
Pedodontics
05
19
DADH
05
TOTAL DAYS
181
---
Basic Preliminary Preparation Point 3
Preparing a Weekly Schedule
---
Many of us are good at scheduling the time but poor in Time Management.

Usually, we decide what topic/chapter to study only when we sit for a reading. This is absolutely wrong and we are wasting quite a lot of time and efforts while doing so. Do remember that cracking the Entrance also demands a planned approach.

So, prepare a Weekly Schedule à Not in Mind but in Written. (from Monday – Saturday, Sunday is usually a break day or coaching day) Preferably by Sunday night.

Write down in a Book/Prepare in a word format and take printouts as desired (must be preserved until you succeed).
---
Still not clear!?
Let me give you an example of a sample weekly plan. You can prepare your own plan based on this module. For this example, I am taking Feb 5th, 2018 as a date.
05 February 2018 (Monday)

Subject: Anatomy

5.30 – 8.30 AM
10 AM – 01 PM
5.00 – 8.00 PM
9.30 – 11 PM
Remarks (mention whether you could finish it or not and the reasons for the same)
Embryology – Theory
Embryology – MCQs
Osteology – Theory
Osteology – MCQs

Revision of the Day

Able to finish as per schedule
06 February 2018 (Tuesday)

Subject: Anatomy

5.30 – 8.30 AM
10 AM – 01 PM
5.00 – 8.00 PM
9.30 – 11 PM
Remarks (mention whether you could finish it or not and the reasons for the same)
07 February 2018 (Wednesday)

Subject: Anatomy

5.30 – 8.30 AM
10 AM – 01 PM
5.00 – 8.00 PM
9.30 – 11 PM
Remarks (mention whether you could finish it or not and the reasons for the same)
---
The benefit of having a weekly schedule or planner:
It will be easy to track your preparation over a period if you have a well planned weekly schedule. Also, you can practice Time Management.
Do remember that, you don't get additional time for practicing Time Management. We should hit many birds with a single shot.
---
Basic Preliminary NEET Preparation Point 4
---
You can plan for a year, a month or a week. However, it ultimately comes down to how you stick to your plan each and every day. Perform your best in a planned manner every day, and you will be on your way to NEET success glory.
Basic points to understand when scheduling for a day:
Effective Day wise Schedule is the key to success

Don't study continuously either from the morning to evening or full nigh-out. It won't yield good results.

Study intermittently – few hours at a time

Take at least 10 minutes break per every 1.5 hours

Don't study for more than 10 hours in Day. Sounds a bit odd. But I bet. It gives immense returns. You must have heard from many that I have read for 15 hours/20 hours etc. Please note that Human Brain can't function for so many hours and it's kind of trash. You can also cook-up similar one once you succeed. You can increase 10 hours to 12 Hours during Revision Period but never beyond 12 Hours.
---
You can be a day reader or a night reader. For Day Readers (Am not talking about Night Readers as I do not encourage my students for that), here is the timetable that you can follow: 
Get up early in the morning. Preferably at 5 AM
Start studies by 5.30 AM and go up to 8.30 AM – Fruitful time: Minimum 2.5 Hours
Stop for Breakfast and other daily chores
Start at 10 AM and continue up to 1 PM – Fruitful time: Minimum 2.5 Hours
Take Lunch break and sleep for at least 1 hour
Start by 5 PM and do it up to 8 PM – Fruitful time: Minimum 2.5 Hours
Have early Dinner
Final Hours for the Day: 9.30 – 11 PM – Fruitful time: Minimum 1.5 Hours
Do the Revision of what you studied from Morning for at least Half an Hour time before you wind up the day
---
From the above Timeline, you are easily yielding around 9 hours of fruitful time (actual concentrated study time excluding breaks time). Note that all these are happening without any stress and still you can allow some time for any other household activities.
---
In Step 2, we covered some of the most preliminary preparation plans that you must follow and adhere to prepare the groundwork for your success in the tough NEET Exams.
To recap the points you covered till now are as follows: 
It is always better to prepare NEET without getting simultaneously into Clinical Practice.
Whenever you decide to prepare for NEET, it is better to go all out in preparing for it rather than diluting your NEET preparation by investing time into clinical practice. More so if you are a new dental graduate, then it is important that you invest all your energy in the preparation for NEET.

Clinical practice is tiring and time-consuming. Being a fresh graduate you are inexperienced to cope up with the stress of clinical practice and simultaneously preparing for NEET. In the end, your NEET preparation will be hampered.
Be very serious about the Preliminary Preparation, as it will lay the foundation how effective your NEET preparation will be.
Understand that the Basic Preliminary Preparation consists of many substeps. Each of the substeps is crucial to the success of the preliminary preparation. The substeps are as follows:

Shortlist Your Study Materials
Shortlist Your Time/Days Per Subject
Prepare a Weekly Schedule/Planner
Schedule the Day

How to Study – Weekly Test Preparation
We have till now covered till the planning of the NEET preparation on a monthly, weekly and daily scheduling.
---
Press Next to go to the next page, to check out the step 3 & step 4 for NEET MDS Preparationa.
Press Next
Let's start with the STEP 3 of this series
STEP 3: How to Successfuly Execute The Plans of STEP 2
 NEET MDS – It all depends on how you Excecute your plan
 NEET MDS – How to Study For THEORY & MCQs
---
How To Study For NEET after making the Plans? 
(Considering that you have regular Weekend Mock Tests)
All About NEET Series – Chapter 2
---
In the previous section, you made a plan to prepare for NEET. We saw how can you divide your 10 months of preparation time by making a monthly, weekly and a daily plan.
However, the most important aspect of the success of a plan is to make sure that you work on the plan with dedication and loyalty.
In the next lines and slides, we will see how to best Work on a weekly basis with a goal to master the MCQ based questions for NEET.
(Please note that this NEET workout is based on the assumption that you will be giving weekly revision tests online or in any coaching center)
This weekly work out for Mastering MCQs involves three steps:
Monday – Friday: MCQs & Theory Workout for NEET Goes to Subconscious Mind
Saturday: Revision of Topics from Monday – Friday For Instant recollection
Sunday: Weekly Test Day
---
How to Study – Weekly Test Preparation
This is another big headache in the preparation. Some say do more and more MCQs; others say do theory.
I suggest you must do both.
Because if you just do MCQ practice without sufficient concepts…it's like building something without any foundation
Reading extensive theory with inappropriate MCQ practice is like having a good foundation without a building
We should concentrate on both the things at a time
As NEET MDS would be a concept based rapid round exam, you must be thorough with concepts
---
1. The Monday To Friday MCQs & Theory Workout for NEET
---
Below lines explain you the method of learning the concepts and MCQ practice
Always read Synopsis/Theory first. Don't touch MCQs without through reading of Synopsis/Theory. If you do that means you are mugging up the questions

Always

finish

chapter by chapter .e.g, Chapter – 01 Theory followed by its MCQ Practice.

Don't read full subject theory at one stretch and then don't do MCQ practice from Chapter – 01. Always incremental study provides better results.
---
How to read Theory/Synopsis
Always read the theory in morning hours for best results

Don't put any deadline for Theory reading. It causes detrimental effects on your preparation

Start reading line by line

Refer to the concerned standard textbooks wherever you don't understand

Underline/Mark all the lines that you feel as important. This is essential because you will be revising only these marked lines during Revision

Emphasize on Images/Pictures – Helps in solving Picture based Questions

Have clear-cut concepts

Revise the Theory for few minutes before you go for MCQ practice
---
How To Practice MCQs for the NEET Exams
Always work out on Fixed Time basis as you need to be thorough with Time Management
Remember: NEET MDS has 240 MCQs with 180 minutes. Hardly you will have 45 seconds per question.
Within this short time itself you should read the Question with Options; arrive at the right choice and mark it. Hence you should have a lot of control over Time.
Built an effective time-based answering right from the day one in an orderly manner.
Maintain a Log Book for your MCQ practice. That's going to be your helper in last minute study.
Below is an Example of MCQs Practice Model for a Chapter with 60 Questions.
The best way to prepare for MCQs is to prepare in a Simulated Test Environment with a limited time. It is the most practical way to train your mind within the constraints of limited time.
---
---
How to Practice MCQs in a Practice/Test Mode
(Steps to Follow)
Write Down/Prepare a Word template with the Number of MCQs that to be Answered. E.g.: 01 – 60 or 01-25 etc.

Make minimum three columns for each Chapter you practice because your target is 01 Basic Preparation and 02 Revisions. If you have a data like this, you can analyze your preparation thoroughly and can be corrected the mistakes and you will be knowing weak areas.

Set the Alarm Clock. Initially 1 minute per MCQ. Allot 60 minutes for 60 MCQs, 20 minutes for 20 MCQs.

Start answering one by one Question without looking into key answers.

Finish answering one-line MCQs to save the time while reading a question.

Mark only those you are 100% confident (Negative Marking is live)

Start answering remaining ones after finishing one-liner. Here also mark only 100% confident ones.

By the time you finish one round, you must have answered at least 50% questions.

Now investigate the questions you have left. Some answers will strike when you are reading the question the second time. Finish answering those.

By the time your round 2 finished, you must have answered 80% of the Paper. Remember this is your Positive Score. Keep it preserved. Meanwhile, time also must be running out. I suggest don't attempt any more questions as you have a Negative marking.

Submit the Paper/Stop your practice test session.
---
The next task is to analyze the test performance. This assessment will give you some crucial ideas on your weak aspects while answering questions within a stipulated time.
---
How to analyze your test performance?
Check the Key answers and compute the score
Note down discrepancies if any and clarify asap
Just don't relax after this
Spend sufficient time to analyze your performance
Note down and mark the wrong answers including the reasons – like wrongly marked even though you know the correct answer, got confused with the options etc.
Also, make an assessment of how many questions you were able to answer correctly within the stipulated time frame.
Make an assessment of the wrong answers you committed (that leads to negative marking)
Always remember, your final rank depends on your total mark and also in the number of negative markings you incur. Therefore, be very careful in analyzing these two aspects when assessing your practice test scores. 
---
As a teacher myself, I have devised a simple technique to help students sort out the questions during test assessment in a way that makes it easy for them to revise. This technique is called as EMD Technique. This technique is used in all the Brihaspathi online materials and also in the printed study materials. This EMD system has also been incorporated into the Brihaspathi Android App.
It's a very simple technique which goes a great way in helping students to manage time and subsequently in the revisions.
---
Mark the Questions directly in the Book against each Question as below
(we have inbuilt facility in our Android App) – See the below Illustration. You can do so in the book or material you are using)
Easy – those type of questions you will never make wrong even in sleep
Moderate – these questions require at least one revision before the exam
Difficulty – that type of questions you always make wrong or doubtful, confusing, requires lot of memory
See a Demo Question sheet below marked with E, M, D Markings. It will save you not only a great deal of time but also make you revision concentrated on the questions that are difficult for you.
Use the table below to keep a regular record of the time-based responses to your practice tests. Even if you decide not to join any coaching center and do self-study, you must use the record system below to assess your regular performance in the simulated test of solving MCQs.
05 February 2018 (Monday)

Subject: Anatomy

Topic: Osteology

Time Allotted: 60 Min

Actual Time Taken: 50 Min

Time Saved: 10 Min

Q. No
Basic Preparation Phase

Response

Revision Phase-01

Response

Revision Phase-02

Response

1
A
2
B
3
D
4
C
5
A
6
A
Go on like this
---
Once you are done with the above methods for a particular chapter then you can repeat it for each chapter you study.Proceed to Next Chapter as discussed above
• With the EMD marking, you had done enough preparation for the given Chapter
• Continue the same way for the rest of the PreparationSoon, you will be ready with a detailed list of assessed material and questions for revisions and study.
In this part of the series "All About NEET," we are looking at "How you should plan your NEET Workout every week?"
This weekly work out for Mastering MCQs involves three steps:
Monday – Friday: MCQs & Theory Workout for NEET Goes to Subconscious Mind
Saturday: Revision of Topics from Monday – Friday For Instant recollection
Sunday: Weekly Test Day
We have covered till now the "Monday to Friday NEET Theory and MCQ workout (aiming to train your subconscious about the NEET Exam style and MCQ solving skills).
Next, we will see the next two steps – How to revise on Saturday (for the chapters you covered till Monday to Friday) and Tackling the Sunday Mock test (Online or Classroom)
---
2. Saturday: Revision of Topics covered from Monday – Friday For Instant Recollection
---
How to effectively revise on Saturday?
Fix the day before the Weekend Test is Revision Day.
Don't study anything new even though you are left out with targeted portions.
First, finish the Revision of all the topics that were read from Monday – Friday. If you don't do this and attempt the test you will experience one peculiar situation i.e. when you look at the options, you cannot arrive at the conclusion instead you feel this I read somewhere. To avoid this, Revision is mandatory.
After revising the finished topics, do a fresh reading of the left-out topics.
Revision of Theory
No need to do A-Z of the Topic.
Have a glance/reading of only the Marked/Highlighted points during Initial Reading.
Revision of MCQs
No need to practice again as you did in Initial Preparation.
Just deduce the answers to the MCQs without looking at the Key.
The order is as below. The EMD markings you have marked since Monday to Friday are now going to be of immense help.
Difficult marked First

Followed by Moderate Question

Easy ones at the end
Observe that this method is allowing you to concentrate where difficulty is, and marks are losing.
Finish the revision of Difficulty and Moderate questions at any cost. Nothing will happen even if you don't look at Easy ones as you will never make mistakes in those.
---
3. Sunday: Weekly Test Day
---
The Weekend Sunday Test:
Now the final day arrived to prove your preparation
Many of the Students don't give importance to Weekend tests. They just attempt it for the sake of giving. Please don't do that.
This is where your mind is getting prepared for the final battle. Here you can teach her how she must be.
Come in-time and sit until the exam time gets finished.
Follow the same steps as you did in practice mode while answering
---
Summary of STEP 3:
Amidst all the exam preparation, you must not forget that NEET is eventually a competition where you are competing against thousands of other equally or more talented and hardworking students. Hence, you must have a warrior or fighting instinct when preparing for NEET. 
And mock tests are the best way to assess your fighting spirit and skills. Whether you self-study or join a coaching, make sure that you train your mind to answer effectively within a limited time simultaneously minimizing the negative answers.
In the NEET preparation, weekly NEET work out you read in this section is very crucial as a long journey is always best covered by completing a small but significant distance every week.
In the next part of the Series of All About NEET, we will be discussing the most effective way to Revise the NEET course before the Final Exam Day arrives. You can read the detailed article on the NEET Revision Plan in the article below.
---
Let's start with the STEP 4 of this series
STEP 4: How to REVISE the Syallabus Effectively
 NEET MDS – It all depends on how do the REVISION
---
The most crucial aspect of success in NEET (after you spend more than 10 months in effective planning and preparation for the NEET Exam) is the quality of your revision.
You may spend hours, days and months in preparing hard for NEET. However, all this will be effective only when you are able to carry out multiple phases of revision.
These revision phases will help you in reinstalling the already understood questions and concepts in your memory.
You will recall that the EMD technique we mentioned in the previous part of this article. If you have used this technique correctly, then you would have by now marked all the MCQs in regards to the category Easy, Medium & Difficult.By following the EMD technique, you have in fact laid the foundation for a STRONG revision once you arrive at the revision phase of NEET.
---
REVISION PHASE – 1 STUDY PLAN – 2 to 4 Months before NEET
Majority of the preparation is like the Preliminary Phase
Divide the Time Period for each Subject based on your level of confidence and difficulty
Follow Similar Preparation as you did one before the Weekend Test
This is the time you can start reading additional material (Only if desired)
You can also increase the Study hours from 10 – 12 hours per day but never beyond that
---
REVISION PHASE – 2 STUDY PLAN – 1 to 2 Months before NEET
You have entered the final phase of the Preparation
Start practicing more and more MCQs based on the Time
Do only on Computer to get adapted to the Exam scenario
Give importance to the chit notes made by you
Keep revising memory-based points/MCQs
Don't neglect important Pictures/Images
Keep an eye on clinical/case-based items
Keep studying for 10-12 Hours per day
---
ONE WEEK BEFORE THE EXAM
Reduce your Study Hours less than 10 hours per day
Increase your night sleeping hours at least for 8 hours per day
Don't be exited
Be ready with your Hall Ticket etc
Map the exam center and plan your travel
---
ONE DAY BEFORE THE EXAM
Don't touch any new book or don't discuss anything with peers
These things increase your stress levels
Spend time with your loved ones, not with exam peers
Keep Calm
It is very crucial to stay calm a day before the NEET. If you have prepared well and to the best of your potential, there is no need to be nervous and jittery. Being so is not going to help you in any way.
You have already trained your mind adequately. All now that is left is to channel your preparation and training in the correct direction. So, not losing your calm a day before the NEET exam will help you immensely in performing the exam at your best level.
---
ON EXAM DAY
Pack all the necessary things related to the Exam center
Reach the Exam Hall at least half an hour before the Scheduled time
DO'S AND DON'T AT THE EXAM HALL & DURING EXAM
Do not panic & have faith in the hard work you have put
Enter the exam in a happy and content state of mind without thinking negative and neither looking too ahead of the time. Just stay calm and concentrate just on the exam – one question at a time
Do not discuss randomly with your friends regarding the texts and points at the last minute. It just ends up making you more jittery and unsettled.
Do check that you have all the necessary documents with you to enter the exam hall
Check your pockets for any study material that you may have forgotten by mistake
Be careful of the negative markings. That is deciding most of the times of your rank
Have trust of your hard work. If you have prepared with dedication and planning you will achieve your goal.
---
Take Away Points:
If you go in a retrograde manner, then your success in the NEET exam depends on how well you have revised all the required subjects. 
However, a successful revision depends on how properly you have worked (on a weekly basis) until the last couple of months of NEET Exam.
And how efficiently you can work during NEET preparation, depends on the proper planning you made and executed.
In the series, till now Dr. Narendranatha Reddy has covered all the above-mentioned aspects in great detail and practical examples.
This concludes till Step 1 to Step 4 – from the day you start the preparation for NEET MDS Exams till the day you are sitting in the exam hall, just about to scale the mountain of NEET MDS Exams.
---
In the upcoming series (Step 5 & Step 6), Dr. Reddy will discuss two most practical question faced by every NEET Aspirant:
Whether I should Self Study or Join A Coaching Center?
What are the NEET Time management issue or tips if you are an Intern, Practicing Dentist, Home Maker or a Dental Graduate (BDS) who graduated many years back.
---