Pulp capping as we have discussed is the process by which the vital pulp is capped by pulp capping agents either  by intentionally leaving behind the deepest layer of the caries approximating the pulp or capping is done in case of iatrogenic exposure of the pulp by the operator .
The intentional leaving of the deepest layer of a deep caries in order to avoid pulp exposure in called Indirect Pulp Capping.
The capping in case of iatrogenic or accidental exposure of the pulp by the operator is called as Direct Pulp Capping .
Direct Pulp Capping
Introduction :
Sometimes the pulp may get exposed either due to caries , trauma or as a result of iatral errors during the operative procedure.
Defn : Direct pulp capping is the procedure for treating an exposed pulp with a material that seals the exposure site and promotes the reparative dentin formation.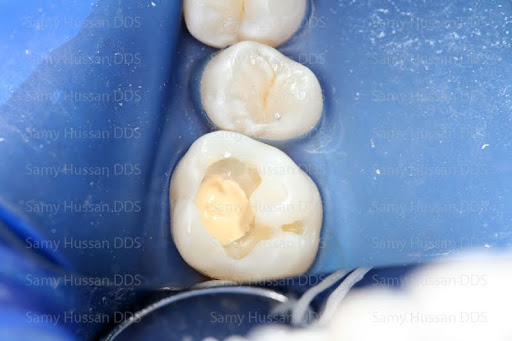 Criteria for successful direct pulp capping
1. The tooth must be asymptomatic before the exposure i.e . no abnormal response to thermal stimuli.
2. The size of the exposure must be small  < 0.5mm in diameter.
3. Hemorrhage from exposed pulp must be easy to control.
4. The area of exposure must not be contaminated.
Pulp Capping Agent
CALCIUM HYDROXIDE is the agent of choice for the direct pulp capping. This stimulates the formation of dentin bridge (reparative dentin) over the exposure .. This capping should be protected by an intermittent restoration such as reinforced GIC cement.
Direct Pulp Capping
Indirect Pulp Capping
Picture Courtesy : Dr.Sammy DDS